Right of Education?
Mother of a 14-year-old child.
The percentage of children who dropped out from school has recently increased in several areas of Jerusalem. This is due to Israeli forces incursions in schools, firing of sound and gas bombs in the schools' courtyards, and arrests of children in or around schools. The number of children arrested has increased since the first intifada. Most of them allegedly accused with throwing stones, and many of them arrested several times, as in the cases with Muslem Odeh and Louai Rajabi who were arrested more than 13 times.
Videos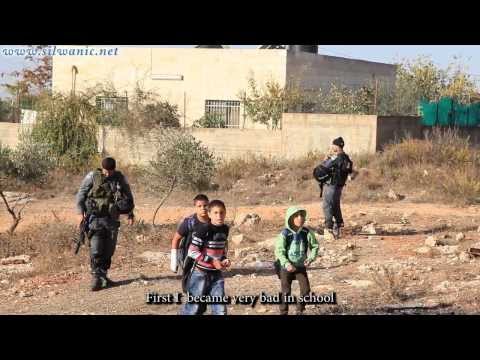 About this photograph
Marwan Makhoul, in the photograph, says:
Your sense of responsibility towards your conscience is what makes you care about the Palestinian children who should not be raised in a culture of intimidation and end up growing weak under the influence of intimidation and injustice.
We do not want the word childhood to be synonym to tragedy where it is suppressed and neutered and would never bring hope of any kind.
The scene of Israeli soldiers pulling innocent children from their arms to interrogate and abuse them in order to promote a culture of terror in the psyche of these children is what calls us to immediately intervene in an attempt to save the young Palestinian children from the Israeli military machine which doesn't have any feelings. This could be an indirect attempt to defend the human rights that are being violated everyday in front of the blind international public.
You do not need to be Palestinian to be affected by this Israeli terrorism practiced by the authorities against a child who softly resisted to speak up, it is enough that you only have a heart to make a statement about their sufferings and to ensure your honor!
Legal point of view
Violation of the right to education
The Compulsory Education Law of 1949 requires giving the right of compulsory education for children under the age of 13, and minors under the age of 17 must exist within an educational framework.
The law concerning minors allows their arrest only in exceptional cases and in the absence of any suitable alternatives and for the shortest period possible taking into consideration the psychological and physical effect the arrest might have on the child and emphasizes on the importance of rehabilitating minors.
According to the above mentioned principles, it is very important for law enforcement personnel such as police, prosecution and the judiciary to make sure children and minors are not isolated from their educational framework. They are all obliged to do their best to avoid the isolation of children from their educational atmosphere.
In reality, these considerations are identified within a priorities list among all the mentioned services. Arresting children for security reasons drowns out any other considerations which negatively affect the minor's life and his ability to go back to school after the arrest is over, and in some cases causes children to completely drop out from school.
It is worth mentioning that many of the children arrests took place when they were coming back from their schools, and in some cases from inside the schools which really shakes the confidence of minors in their educational system or even its usefulness.